Laser Electrical Rangiora
Laser Electrical Rangiora is a proud locally owned and operated company providing electrical and commercial refrigeration services throughout North Canterbury.

Click the button below for quotes & enquiries.
We enjoy building longstanding relationships with our clients. We welcome new clients to contact us. We service the greater North Canterbury region including Rangiora, Amberley, Kaiapoi, Culverden, Waikari, Hurunui District, Cust, Oxford and Waimakariri.
Give us a call today on 0800 636300.
We have registered electricians and trade-qualified refrigeration engineers. All our staff proudly have a strong work ethic.
We offer you professional, high-quality service specifically tailored to your unique requirements. When contacting us, you will be dealing with one of the most trusted names for electrical and commercial refrigeration in the area. No matter the task, you can expect us to carry it out with complete focus and integrity. With quality workmanship and a focus on customer service you can be assured of a reliable, efficient service that is "Totally Dependable".
Electrical Services
Laser Electrical Rangiora is focused on residential, rural and industrial services. We offer a full range of electrical services including heating and ventilation. We take pride in finding the best solution for our customers.
Commercial Refrigeration
Laser Electrical Rangiora works with dairy farmers, butchers, cafes, bars and restaurants, to name a few, to solve any commercial refrigeration problems and install new equipment.
Solar & EV
At Laser Electrical Rangiora eco-friendly solutions are a must to protect our environment for future generations. If you would like to discuss installation or maintenance of PV solar, hot water solar, LED lighting, EV chargers give us a call.
We are your "Totally Dependable" provider of solutions, service and quality workmanship.
Laser Electrical Rangiora specialises in the following services:
Civil
Residential
Commercial
Domestic
Industrial
Rural
Air Conditioning and Ventilation
Heating
Maintenance and Servicing
Home Theatre Audio and Automation

Commercial Refrigeration including bar chillers, cabinet chillers, rural chiller and freezers
The Team were very friendly and arrived earlier than expected. I had a few extra jobs they happily did them for me. One member from the first team even showed me how to get the best out of my vacuum cleaner. They are a credit to your company."
Company was prompt in responding. In fact having been told by 4 other companies that they were unable to service our heat pump hot water system because the company who made them have gone under or they were far too busy, Laser's response was "look, we'll send someone around and see what is needed and what we can do". They came (Ward, you're awesome) identified the problem, and fixed it right then. Ward kept at it past 6pm to ensure we had hot water - the first time we had it in 5 days! Prompt, professional, polite and willing to at least have a look."
Efficient team work friendly workers and when job completed a run down on the workings of the unit."
Very professional during the Covid-19. Highly recommended."
Ward's professionalism on site and the extreme care he took while in my home. He ensured everything was working before he left and offered improvements that could be made e.g. to install a new extractor fan that would not be so noisy in my noisy kitchen, he took photos of my bathroom heater so when I can afford a new more efficient heater you have a record of what we have in our home, he was patient when looking at my outdoor lighting system. Also when making the booking with Pam she made sure I was informed about timing and from photos I emailed to her, she was able to source the parts that were needed for the repairs. I'm very satisfied with my experience with your business. I will be definitely using your services again in the future. Many thanks."
Quick reply to original email, phone call to confirm time, friendly staff on phone and staff that came out to property. Respectful of our property and kids etc... Prompt with invoice."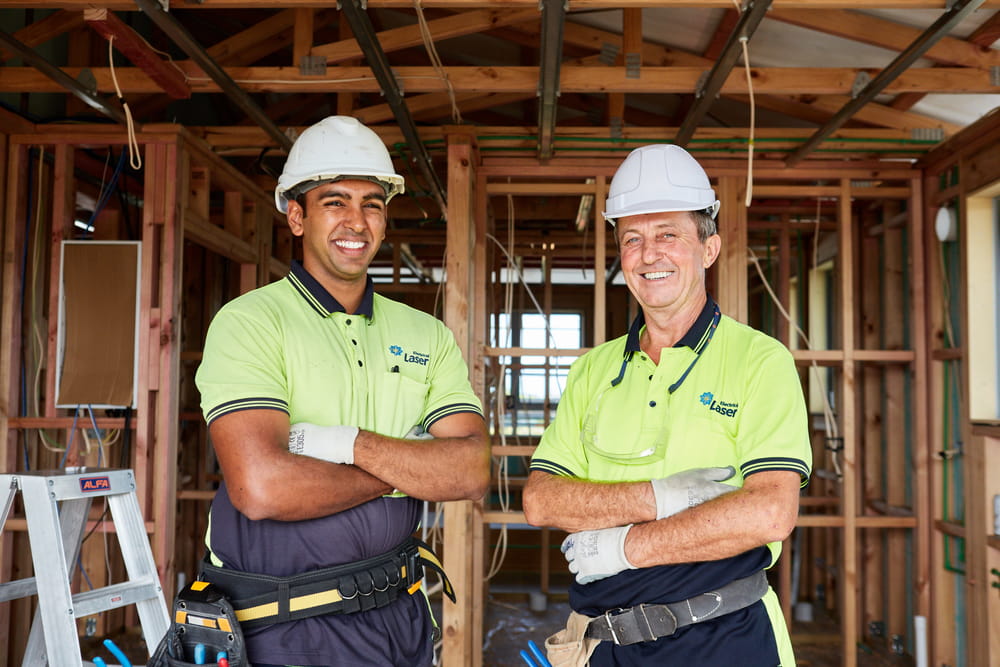 When you hire a Laser Plumber or Electrician, you'll receive our 'Totally Dependable' service!
Timely delivery
Promise of care and skill
Appropriate work for customers' needs
Well-presented, professional employees
Ensure responsibility of material supplied
Honour manufacturer's guarantees
Meet and frequently exceed our customers' expectations
Find us
Laser Electrical Rangiora
347A Flaxton Road
Rangiora 7476
New Zealand
Enquire now
Contact us with any question, booking request or quote.