Heating / Ventilation
Warm up your winter. Ask our Laser Electricians about Heat Pumps or Under Floor Heating today.
Why Have A Home Ventilation System?
There are many reasons to have a home ventilation system which include:
Cold and damp houses make you, and the people you care about sick. It's one of the greatest causes of illness and sickness in New Zealand.
Mould and mildew grows in cold and damp houses which damages your home, and your clothes and valuable assets.
A ventilation system removes dust and pollens, and harmful chemicals such as fly spray and chemical cleaners from the air. Especially important for those who suffer from asthma, hayfever and other medical conditions.
Heating a damp home takes longer, and is more expensive.
A home ventilator adds value to your property and will make it more desirable for a potential purchaser.
How Do You Know if You Need A Home Ventilation System?
Signs that you need a ventilation system include:
You frequently have condensation on your windows
Your clothes, sheets or other belongings feel damp, or there are signs of mildew or mould
You or your family are frequently ill
Plus, as always prevention is better than cure, so it pays not to wait until the above symptoms appear.
What Does A Home Ventilation System Do?
A home ventilator removes excess moisture and foreign harmful particles from the air, so that you are able to live in and enjoy fresh clean air that is better for your health, your home, and your possessions.
How Do You Choose The Right Home Ventilation System For You?
It doesn't really matter whether you are designing a house with a ventilation system, or installing one into an existing home. There are two types of home ventilation systems to choose from.
1. Positive pressure ventilation systems - (also known as roof cavity heat transfer ventilation systems), are the most common type in New Zealand. These force filtered air through vents in the ceiling from the roof space. The air that is forced into the house escapes through gaps around the doors and other places where air can leak throughout the house. It is recommended that you should fit filters to this type of ventilation, and keep the filters clean and well maintained.
2. Balanced pressure heat recovery ventilation systems are particularly appropriate for colder parts of New Zealand. The larger the temperature difference between inside and outside, they better these systems will work. These systems have both air being pushed in from the outside, as well as a fan pushing air back outside. Some of the warm air will be pushed back into the heat exchange unit which also helps to reduce heat loss.
What's Next?
Your local Laser Electrician has all the skill and expertise you need to help you choose and install the home ventilation system that's best for your home and needs.
And, when you choose a Laser Electrician to install, service, or maintain your home ventilation system you benefit from:
Totally Dependable Guarantee
Local branches with national coverage
Friendly and efficient - no mess, no fuss electricians
Expert help when you need it
Ask your Laser Electrician for a free assessment and quote. Call us now on 0800 GETLASER
Heat Pump & Air Conditioning Installations
Warm in the Winter... Cool in the Summer!
If it's important to you that you and your family stay warm in the winter, and cool in the Summer - then a heat pump may be perfect for you.
Why Choose A Heat Pump Or Air Conditioning Unit?
Heat pumps and air conditioning units are our fastest growing heating / cooling solution. They are much less expensive to run than other forms of heating, and are more environmentally friendly than traditional units.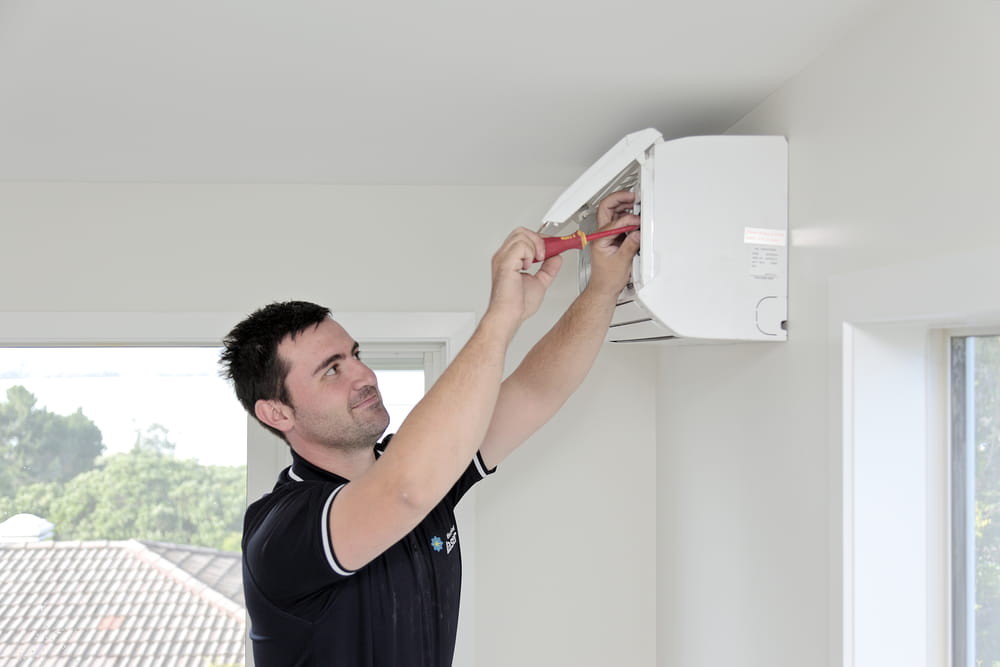 How Does A Heat Pump Work?
Heat pumps work just like refrigerators, transferring free heat from the outside air, which is warmed by the sun's energy, into your home. In reverse it's used as an air conditioner to cool your home. One of the benefits of installing a heat pump (or air conditioner) is that they have no heating elements, so they're more efficient than electric or gas heaters.
How Do You Make The Most Out Of Your Heat Pump?
Once your heat pump installation is complete, there are a few ways to make the most of your heat pump.
Make sure you read the manual and learn how to use the remote
Turn your heat pump or air conditioning unit off when you go out so you are not wasting energy. Use the timer function so you have a warm house to come home to.
Set the thermostat at a comfortable temperature. Setting it higher won't heat a room more quickly, but it can affect efficiency.
Skip the "auto" setting as the constant switching between heating and cooling to maintain the set temperature wastes a lot of energy. Make sure you shut doors and curtains to keep the heat in.
Regularly maintain your heat pump to keep it working in optimum condition for as long as possible. Your Laser Electrician can provide a scheduled maintenance program to keep your heat pump serviced as well as keeping your filters clean.
When Choosing Your Heat Pump Or Air Conditioning Unit
It's important that you choose the right heat pump for your home, not the cheapest. When the correct sized heat pump is installed for your space, it works better and is way more cost effective, and will do a better job of keeping you warm in Winter and cool in Summer.
What's Next?
If you think a heat pump or air conditioning unit could be what you need, then we suggest you give us a call. A Laser Electrician is well skilled and equipped to help you with:
The design and specification for all requirements
Standard high wall heat pumps
Multi-head heat pumps
Full ducted heat pump systems
Floor consoles
Expert guidance on various brands of heat pumps
Regular servicing and maintenance of your heat pump or air conditioning unit
Fujitsu Accredited heat pump installation means 6 years of full warranty
In fact, your Laser Electrician is experienced across a wide range of heating solutions and will help you select the best heating solution and system for your home and needs. Call us today for your free assessment on 0800 GET LASER
Underfloor Heating
Why Have Under Floor Heating?
Have you experienced that feeling when you climb out of your toasty warm bed, and the floor feels like an icicle?
Well, that's one very good reason to choose under floor heating. Most of us enjoy the stylish and contemporary look of tiled, granite and hardwood floors; but they can be cold which takes away from the comfort of your home.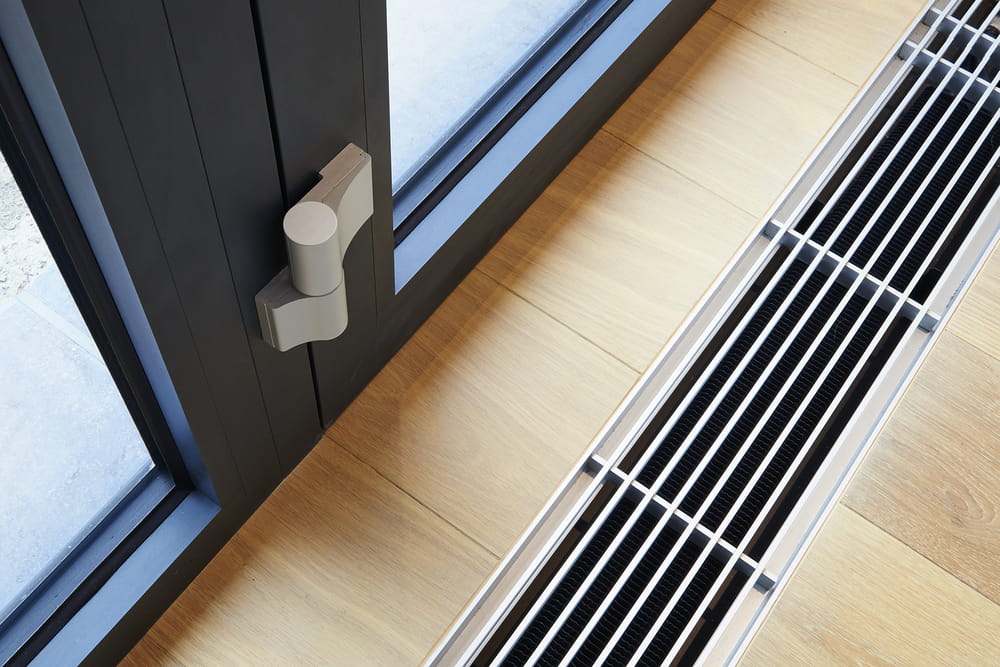 Other reasons to choose under floor heating include:
Can be very cost effective and eco-friendly as you can heat individual rooms to your desired temperature
There are no vents, ducts or appliances associated with under floor heating making so it's very aesthetically pleasing
Under floor heating is completely silent
No cleaning or maintenance is involved with electric under floor heating
Under floor heating does not circulate air which can increase airborne allergens, so it's good for your health.
Under floor heating can be used as the primary source of heating in your home, or it can be used in addition to another heat source. And, you can choose to put under floor heating in your entire house, or just a section of a room. This invisible and silent radiant heating brings back the comfort to match the style.
What Type Of Floors Does Under Floor Heating Work With?
Under floor heating works brilliantly with the following types of flooring materials:
Ceramic and slate tiles
Marble and granite
Hardwood tongue and groove flooring
Carpet
And electric under floor heating is perfectly safe to use in wet areas such as bathrooms.
Planning Your New Home or Home Renovation
If you're designing your new home or planning your next renovation project we recommend you consider electric under floor heating. You only get one chance to install under floor heating, so it must be considered at the design stage of your project. Under floor heating is not an after thought.
What's Next?
Your Laser Electrician can help you with all of your heating needs, from design and product choice, to installation, to after sales service and maintenance. We also provide and install heat pumps and air conditioning units along with home ventilation systems depending on your housing requirements - so your Laser Electrician is your one stop shop for advice for your home heating.
To arrange an in home consultation call your local Laser Electrician on 0800 GET LASER.
Heated Towel Rail
Did you know that you could be paying around $175 per year for your nice warm towel in the morning when you could be paying only $60?!
That's right… you could be saving a total of $115 every year by simply installing a heated towel rail timer and having it run only 8 hours per day rather than 24 (savings based on a standard sized 80W towel rail, running 24 hours a day, 365 days a year, at an average electricity cost of 25 cents per kilowatt hour).
Leaving your heated towel rail on 24 hours per day everyday is costly, harmful to the environment and will generally not provide any benefit to you. A heated towel rail timer will provide regularity.
By installing a heated towel rail timer you will reduce your energy bill without forgoing that warm towel that you look forward to when hopping out of the shower in the morning. Once you have installed a heated towel rail timer you can set it to run for a period of time such as eight hours before your regular shower time.
A heated towel rail time will cost you as little at $40 plus the cost of installation by an electrician which is a quick and simple installation. This is a one off cost and the benefits will continue for years to come.
If you would like to save up to $115 off your power bill every year then it's time to get you heated towel rail timer installed. If you would like to get this done contact Laser Electrical for your local electrician.
If you have a plumber planned to visit for another job at your home then that is also the perfect time to get your heated towel rail timer installed.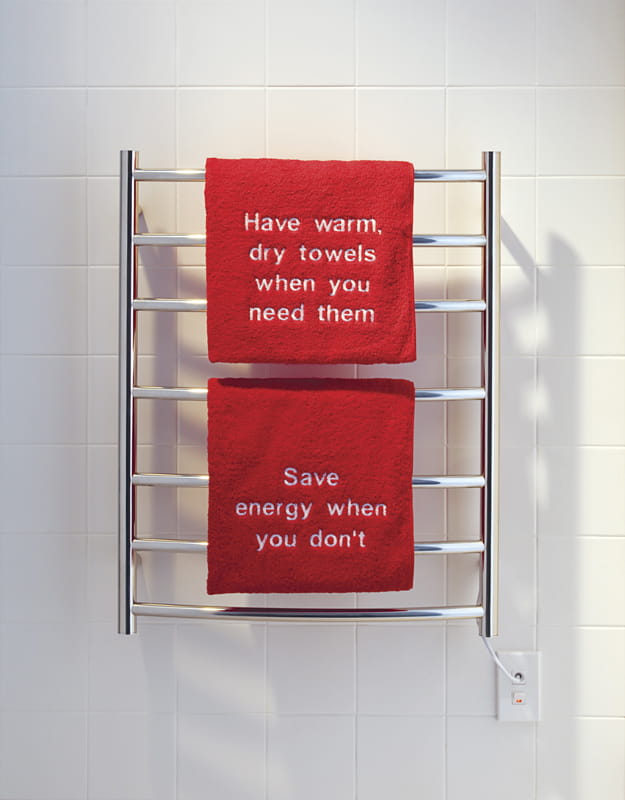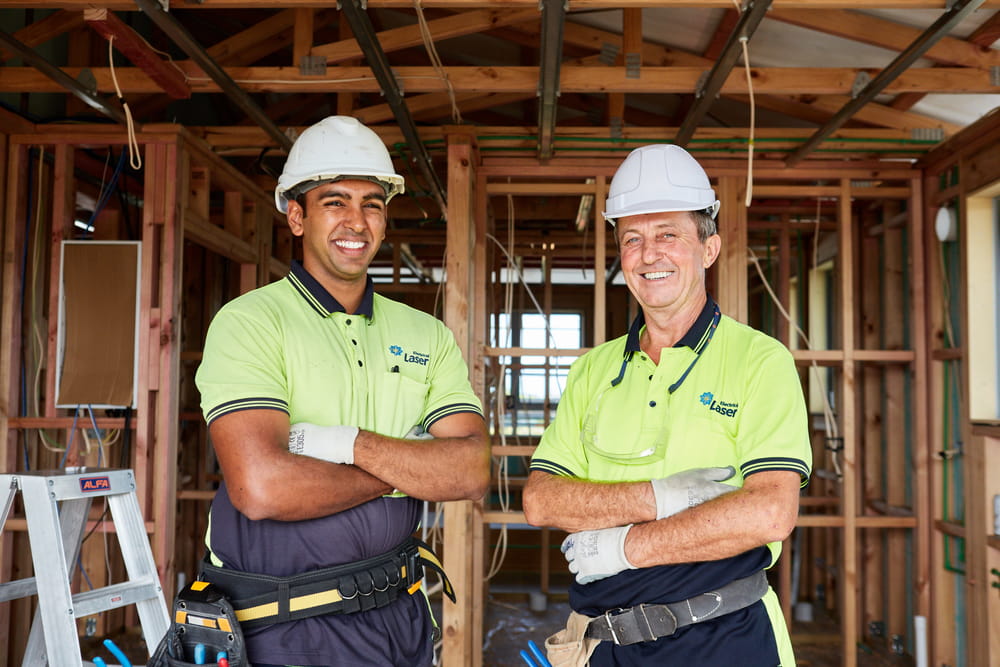 When you hire a Laser Plumber or Electrician, you'll receive our 'Totally Dependable' service!
Timely delivery
Promise of care and skill
Appropriate work for customers' needs
Well-presented, professional employees
Ensure responsibility of material supplied
Honour manufacturer's guarantees
Meet and frequently exceed our customers' expectations